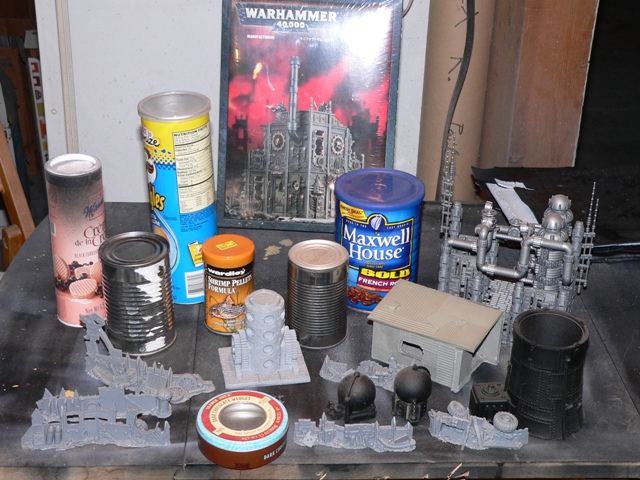 As discuss earlier with Enrgie, he is setting up a gaming place. With his gaming board incoming(6x2"x2"???), we will need more terrains, to make sure everyone contribute to the gaming group. Everyone will need to contribute S$30 to buy terrains. Around S$26 will be use to buy gw and/or other companies terrain kits. The S$4 will be use to buy materials to DIY some basic terrains like forest, hills and impassable terrains.
If S$30 is too much or for some reasons you don't want to contribute financially, you can donate a decent size terrain piece (eg: DIY ruin building) and some paints/spray paints(2 cans) to the gaming group, the terrain piece can be DIY or bought, it just got to look decent and not some lame ice-cream sticks glue together crap.
For me I will be contributing S$30 for the terrain day fund and also giving my woodland-scenics trees (around 10 pine trees) for DIY forests.
A brief count, we may have 6-7 people willing to contribute. That will come up to
6-7 pieces of gw terrain if we buy all gw terrain kits.
Including the DIY terrains we will have more than enough terrain for both 40k and fantasy.
Edit- So far the contributors are the following
1)crazyrat
2)Enrgie
3)Skanwy
4)Krom
5)Beef nuggets
A piece of good news, maelstrom is giving 17.5% discount again till 1st august 2010. We should decide and purchase the stuffs before the discounts ends.
Your 17.5% off UK RRP discount voucher ends on the Sunday of the Perfect Storm birthday weekend, the 1st of August 2010, at midnight (GMT)



Your voucher code is: THE-PERFECT-STORM
Feel free to add ideas to this post or comment below if you are contributing.